Yale Luna Pro+ 3D FaceScan Digital Lock
January 26, 2023
Yale Luna Pro+ 3D FaceScan Digital Lock
Face recognition
Finger Print
PIN
Card
Stop, look, go. Simply effortless. Yale Luna Pro+
Family always comes first in our minds, and so do our innovations.
Meet Yale Luna Pro+, the face recognition using Yale FaceScan technology powered by 3D structured light to enhance the security of your entrance. The best solution you can ever have for your beloved kids, parents, and family members.
Our patented off-centered design enables safe operation without the risk of finger-pinching. The fully-auto lock case makes smooth and fast locking or unlocking experience with low noise. This modern and sleep designed smart lock complements your home like no other.
Yale Luna Pro+ allows you to open doors in various ways, you can enjoy the access option either via face recognition, fingerprint scan, personalized PIN code, CPU card, or simply via the Yale Access app.
Download the Yale Access APP and control your lock using your smartphone via the app, you can:
Unlock the door lock easily
Yale Access is an integrated security solution that controls the opening and closing of your Yale smart door locks through your smartphone application and provides real-time status monitoring of your home.
Personalise your lock settings
User-friendly interface to personalise your lock settings. Register as many fingerprints, user pin codes, card keys & Bluetooth keys as you want. Add a one-time user code for visitors like your parents whenever you are not at home to welcome them!
Control your smart lock remotely via Yale Access* Wi-Fi Bridge
Remotely access your smart lock from anywhere. Able to track who accesses your door 24/7.
Receive alert notification
Get notified whenever someone unlocks the door – this is especially useful when only your helper is at home for instance – the app will indicate the various times the door is unlocked too! You will receive a notification when the lock is jammed or the alarm is armed.
Technical Specifications
Front body: 103(W) X 424(H) X 49(D) mm
Main body: 76(W) X 420(H) X 62.7(D) mm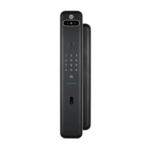 Yale Luna Pro+ 3D FaceScan Digital Lock