First Alert 2037F Fire & Waterproof Chest
April 25, 2020
First Alert 2037F Fire & Waterproof Chest
Independently verified to protect digital media, such as memory sticks, CD's, DVD's and external hard drives.
UL classified media protection device tested to withstand an external temperature up to 1550° for 1/2 hour.
Holds standard file folders.
Clamping style latch with key Lock.
2 entry keys included.
5 year limited warranty, with a lifetime after-fire replacement.
Interior Dimensions (HxWxD): 10.25 x 12.17 x 8.58
Exterior Dimensions (HxWxD): 13.25 x 16.25 x 13 in.
Product Weight: 38.9 lbs.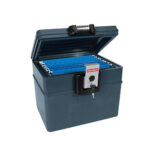 First Alert 2037F Fire & Waterproof Chest