Doberman Security SE-0106 Wireless Ultra Slim Window Alert
April 25, 2020
Doberman Security SE-0106 Wireless Ultra Slim Window Alert
Protect any window with the Doberman Security Ultra-Slim Window Alarm. Simply peel and stick the device to any window. Its sensor detects vibration and emits a 100 dB alarm to alert you of a potential break-in. The ultra thin design of this alarm makes it perfect for use with sliding windows. Includes warning sticker.
Features:
Built-in sensitive vibration sensor.
Alarm triggered after window vibration by an intruder.
The perfect device to detect intruder break-in via the window of your house, apartment, store, office, R.V. or dorm room.
Loud 100 dB alarm.
Warning sticker to deter theft.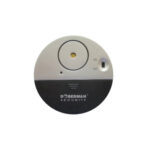 Doberman Security SE-0106 Wireless Ultra Slim Window Alert